Whether you are exclusively or partially feeding your baby breast milk, it is highly likely that you will use a breast pump somewhere along the way for one purpose or another. The frequency of its use depends upon your lifestyle and milk production as well as baby's appetite.
Typically, a baby's latch and sucking power during breastfeeding produce superior stimulation and volume in comparison to what a pump can accomplish during the same time frame. So, keep in mind that pumping may not produce as much milk as during a nursing session with your baby. Also, know that every mother's letdown and production can widely vary. While one may produce 5 ounces a side in a 15-minute pumping session, another mother may yield 2 ounces or less a side.
Ever since the day I found out I was pregnant I've gone full-on nesting mode and realized that I must look for a reliable breast pump that I can trust. It can take quite a few days before your milk supply increases and a breast pump can be used to stimulate milk production, especially if the mom can't produce enough milk for the baby.
I was actually planning to buy a breast pump after I gave birth due to having second thoughts on whether or not it was "that" important to purchase one right away. I work at home or at the Asian Journal Publications Manila headquarters which is just a block away from my house (and at that time, I wasn't even sure if I would work for the first few months when baby comes out) so I'm always at home, where I can conveniently feed my baby directly from my breast.
But after reading all these recommendations and pieces of advice from fellow moms, I was persuaded to buy a month before my due date and I chose the Spectra M1 Double Electric Breast Pump thanks to BabyMamaPH. It's small and portable, cheaper than most popular brands of breast pumps (like Medela, Avent, etc) and it has quite a lot of rave reviews.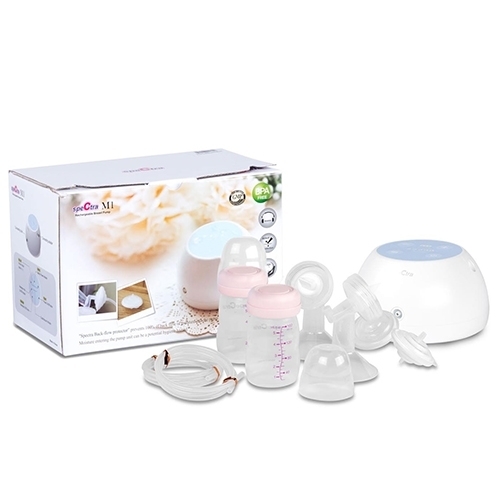 The M1 model is a fantastic budget double breast pump for regular expressing (up to twice daily pumping). This pump is extremely lightweight at under only 14oz, and compact enough to fit into your regular handbag. With its double expression phases, it's a direct rival to the Medela swing. It has few parts, making it easy to maintain and use, no fiddling around, just plug and go.
You can use this pump as a single or a double pump depending on your needs. It's a really easy setup. We love that it comes with a back flow preventer on the breast shield to prevent milk entering the motor part. This makes sure the machine is a closed system and cannot grow mold or bacteria in the part which cannot be seen or washed. You can use Spectra M1 up to 12 times a day and up to 6 hours of total pumping time. Since the pump is rechargeable, the pump must not be used while charging. Never let the battery drain as well as this can damage the pump motor.
PROS:
Compact and lightweight
Rechargeable battery or mains power supply
Use as single or double pump
CONS:
Not hospital grade
Cannot control suction strength and speed independently
This is easily among the best breast pump for regular expressing because it gets so many things right. You can get this at a really affordable price and it performs well. The suction strength reaches up to 300mmHG which is very effective, combined with a suction cycle of 30-46 sucks per minute it can mimic baby well. Although it performs well we would have the suction strength and speed to be controlled separately as with this model they increase and decrease together.
Not only does BabyMamaPH offer a wide selection of breast pumps, they also hold a large selection of baby products and mother care needs. From nursing covers, essential oils, lactation treats, lactation supplements, to nipple cream. You name it, they'll have it.
BabyMamaPH's Additional Breast Pump Offers:
They offer free pump testing in-stores.
All breast pumps have 1-year warranty
All spare parts are available online and in-stores
They offer repair services for all pumps purchased from Babymama

BabyMamaPH has shops in BGC, Alabang, and Ortigas.
You can check out their online shop and social media platforms here:
babymama.ph | Instagram | Facebook